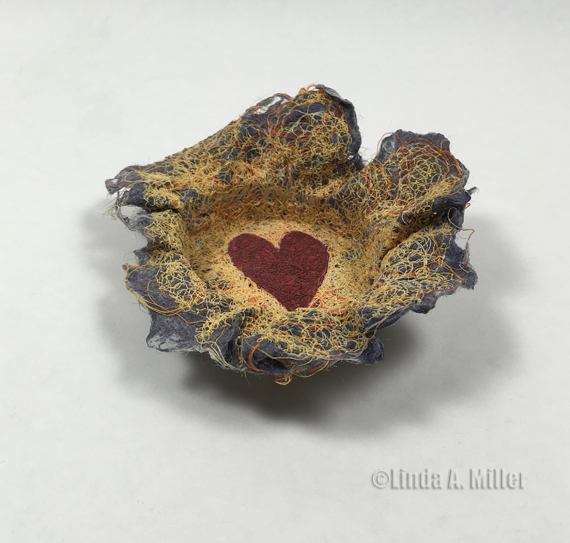 Sculpting Bowls
May 31, 2023 by Linda A. Miller
---
For years, I have been creating small fiber bowls, which began as a means to recycle leftover thread cuttings, yarns, and lint. The results always have an element of the unexpected. Previously I had used Solvy sheets, a water soluble stabilizer that looks like plastic wrap, in making my own fabric out of threads and stitching for appliques on my quilts.
I began to wonder about the possibilities of a three dimensional piece… and how would that work? Here you see the results. Let me share the process with you.
To begin, I set up layers of lint, thread cuttings and yarn between two sheets of Solvy. Photos above show front and back of sandwich. This package is then put in an embroidery hoop before stitching. I find this keeps everything together as I stitch. I use a 10″ hoop that allows me access to all areas under my machine's arm. Then I use free motion stitching all over the surface to keep the materials together once the stabilizer is gone.
Once the stitching is finished, the materials are taken out of the hoop. I trim off the edges of the Solvy (I now have a bag of those cuttings to use in some project!) and wash out the Solvy in a water bath, leaving some residue remaining which will act as glue for bowl.
Now the material is ready for forming into a bowl shape. I am using packaging from store bought muffins. You can experiment for yourself with different forms. Once molded, I let it dry.
The bowl is very light, almost paper like in texture, and holds it shape. I seal it with acrylic sealer or matte medium for protection. Voila … a delicate fiber bowl! See more bowls in my Etsy shop.
Using the soluble stabilizer to create fabric is not a new idea. I enjoy learning how others have gone down a similar path to develop their own style of three dimensional art. In an issue of Quilting Arts (October November 2012) Julie Richardson talks about her own process of turning scraps into sculptural bowls, using AquaMesh Wash Away embroidery stabilizer. There are many options out there. Try it for yourself.
---
Tags:
bowls
,
sculpture
,
stitch
---
---