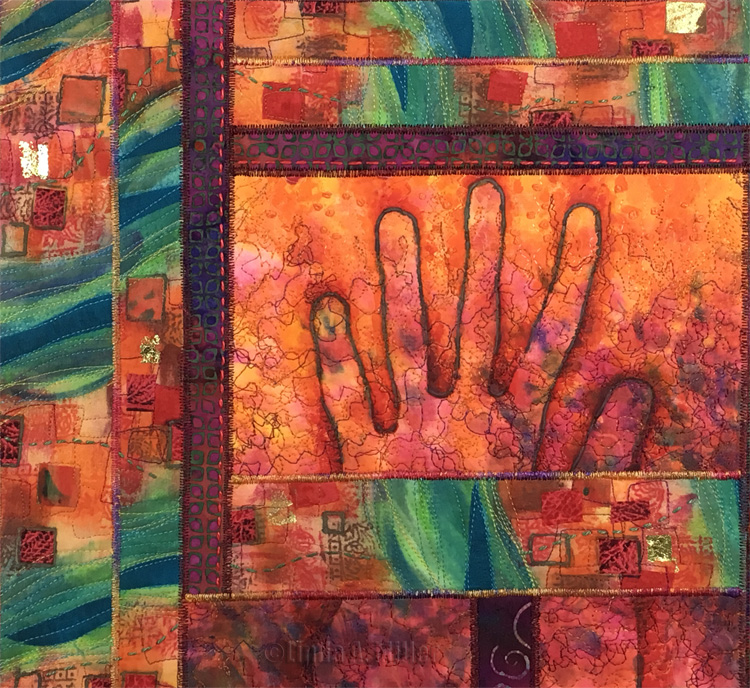 Deconstructing the Process
March 13, 2019 by Linda A. Miller
---
Genuine inspiration is not particularly dramatic. It's very ordinary. It comes from settling down in your environment and accepting situations as natural.

Chogyam Trungpa Rinpoche

I have been continuing to explore the deconstruction/reconstruction inspiration that began the year. Here is how my working process unfolded as Deconstruction 4 developed. I sourced pieces that have been sitting in storage (those that were not quite working… do you have any of those?). Then I randomly sliced them up with my rotary cutter and began reassembling parts. This part of the process evolves more slowly… I like to step away and come back to the assembly before making a final decision.
I used these two small quilts below in creating the new one, adding additional fabric for visual interest where needed.
Once I had an appealing configuration, the parts were fused to a backing fabric and sections satin stitched together. At this point, I added hand stitching to the quilt. Handwork is always one of my favorite elements to play with. I find it to be a very contemplative process. For Deconstruction 4, not much extra stitching was needed as the original quilts already had extensive free motion stitching. I also added some touches of foil for extra zing to embellish the look. Once the piece felt complete, I fused it to another backing fabric for stability and finished the edges with more satin stitching.
I find as I play further with this series, or for that matter any ongoing idea, keeping a freshness to the process can become a challenge. Spacious outlook comes by bringing my senses back to the present. How do I do that? Returning to breath and body for a few minutes is a very helpful technique. Or going for a walk. Give it a try yourself and discover what works for you.
---
Tags:
#beawakecreate
,
art quilts
,
creative process
,
deconstruction
---
---